The head of the U.N. nuclear agency says he expects Iran to sign an agreement "quite soon" to allow inspections of facilities suspected of being used in a covert nuclear-weapons program. 

International Atomic Energy Agency (IAEA) chief Yukiya Amano made the comment Tuesday after returning to Vienna from a brief visit to Iran, where he met chief Iranian nuclear negotiator Saeed Jalili.  Amano said he and Jalili made a "decision to reach an agreement" on U.N. access to Iranian sites including the Parchin military complex.

Western powers suspect Iran has engaged in atomic weapons research at the site.  Tehran says Parchin is a conventional weapons facility and insists the Iranian nuclear program is peaceful.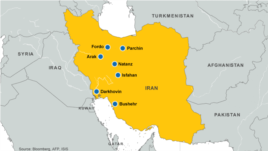 Nuclear facilities and sites in Iran.
Israel sees a nuclear-armed Iran as a threat to its existence and refuses to rule out military action against the Iranian nuclear program.

Israel sees false progress

Israeli Defense Minister Ehud Barak accused Iran of trying to create a false impression of progress with the IAEA before nuclear talks with six world powers Wednesday in Baghdad.  He said Iran is trying to reduce international pressure to make nuclear concessions and wants to postpone any intensification of sanctions by the foreign powers.

The six-nation group is trying to negotiate a separate agreement with Iran on stopping Iranian production of highly-enriched uranium that could be converted quickly to nuclear-bomb material.

Barak urged the six-nation group to leave "no window or crack" for Iran to reach a military nuclear capability, saying any international concessions on the issue must be "forbidden."

He raised the possibility of allowing Iran to keep what he called a "symbolic" amount of low-enriched uranium but only under "strict" international supervision. Israel is widely believed to be the only nuclear-armed nation in the Middle East.
VOA News