There are days I want to throw my hands up and say I'm going back to bed after reading the headlines lately.
I feel a sense of frustration that these people are just getting a slap on the wrist!
FORT MEADE, MD — A military judge in Maryland has found Army Private Bradley Manning guilty of espionage - but not aiding the enemy - by leaking hundreds of thousands of documents to the anti-secrecy website WikiLeaks. Manning could now get a life sentence, and the case sets a precedent on how the U.S. government is willing to deal with intelligence leaks in the Internet era. 

After three years in custody that included time in solitary confinement, the verdict is in for Bradley Manning: guilty of espionage.  

He was acquitted of the most serious charge: aiding the enemy.  But the espionage conviction may still get him a maximum sentence of 136 years in prison.

Some of the leaked files were found in the hideout of Osama bin Laden.
If "some of the leaked files" ended up in Osama's hands......then how is that NOT aiding the enemy?
Then we have Snowden...........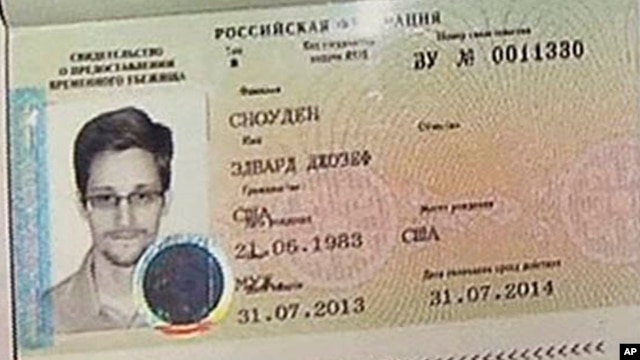 NSA leaker Edward Snowden received this temporary asylum visa to Russia on Thursday, August 1.
WHITE HOUSE — White House officials say they are "extremely disappointed" by Russia's decision to grant asylum for one year to Edward Snowden, who is accused of leaking U.S. government secrets.  Officials are deciding how to respond.

White House press secretary Jay Carney said Thursday Russia's offer of asylum to Snowden has undermined Russia's record of law enforcement cooperation with the United States.

"We are extremely disappointed that the Russian government would take this step, despite our very clear and lawful requests, in public and and in private, to have Mr. Snowden expelled to the United States to face the charges against him," he said.

The former National Security Agency contract systems analyst had been living in a Moscow airport for the past six weeks.  Russian President Vladimir Putin has dismissed the Obama administration's demand that Snowden be returned to the U.S. to face espionage charges for leaks that revealed American surveillance practices.

Carney described Snowden as a security risk who has been in possession of classified information both in China and in Russia.

"Mr. Snowden is not a whistleblower.  He is accused of leaking classified information, and has been charged with three felony counts, and he should be returned to the United States as soon as possible, where he will be accorded full due process and protections," he said.
All information quoted here was taken from various news article published at VOA News.