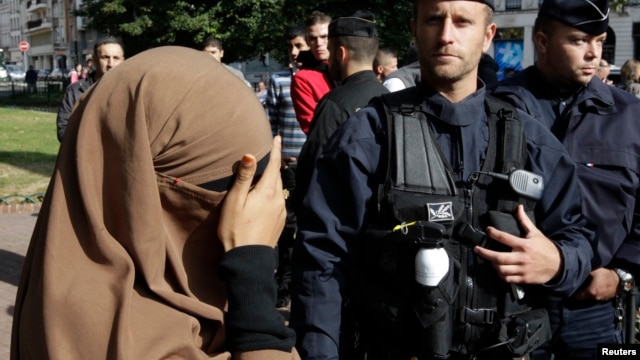 A woman wearing a full-face veil, or niqab, covers her eyes as she stands near police in Lille, France, in this September 22, 2012, file photo.
PARIS — As temperatures soar in France, tensions are also on the rise over Islam, immigration, violence and the state's response to long-simmering tensions in the country's low-income suburbs. It all started with weekend clashes outside the French capital.

Just as French government ministers begin packing their holiday suitcases, violence erupting in the Paris suburb of Trappes suggests they may not be in for a calm summer. Dozens of people assaulted the Trappes police station this past weekend, throwing fireworks and setting trash cans on fire.

The incidents apparently took place after police arrested a man for assaulting them, after they detained his wife for wearing the face-covering veil in public - a practice that is banned in France.

The chain of events sparks memories of previous unrest - first in 2005, when youth riots swept across the country, mostly in immigrant-heavy neighborhoods. In 2010, a new French law banning the face veil also triggered debate and anger.
Continue reading "Tensions Simmer Over Muslim Veil Incident in Paris Suburb " »